Red Cross Training Services
Buy first aid kits online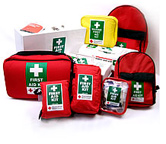 Visit our online shop and select from our range of quality first aid products and information.
Red Cross Training Services
Training beyond first aid. See our full range of qualifications and short courses.
Australian Red Cross is part of the world's largest humanitarian organisation and has been delivering services to Australians for 100 years. Today, Red Cross Training Services is a leading provider nationally of first aid and work skills training delivery programs to individuals, businesses and the broader community.
From working with the most disadvantaged and vulnerable people and communities, through to global commitment to making first aid accessible to all, Red Cross believes in transforming lives through learning, development and employment, and enabling personal and professional growth.
Understanding individual requirements in learning, Red Cross Training Services is committed to flexible learning approaches that enable our clients to most effectively achieve their training and employment outcomes.
Every year Red Cross Training Services delivers 100,000 courses and qualifications to Australians at 80 training locations across the country.
Consistency, Quality and Customer Service are key, with commitment to excellence in provision of skills for life.
Attracting a national network of industry-leading trainers and experts in key content areas, Red Cross Training Services combines industry experience with leading training practices to deliver adaptable and inclusive training solutions.
With 100 years training experience, Red Cross is a trusted partner to organisations, delivering first aid workplace compliance and work skills training to enable an active and engaged workforce.
By combining nationally accredited training with a robust practical placement program, Red Cross helps build pathways to sustainable and rewarding employment. Connecting students with employers in their local communities fosters ongoing development and growth.
To find out more about Red Cross Training Services visit redcross.edu.au or call 1300 367 428.